If you are looking to buy a Cheap Treadmill in the UK, then you won't need to look any further than this researched list of 7 featured Cheap Treadmill models which are available across the UK marketplace at present. Please note that this is purely a researched review list of the cheapest treadmills that we found across multiple suppliers and any prices outlined are based on what was on sale at the time of this review so feel free to choose whichever model you feel will work best for you.
As prices can change slightly from month to month, please make sure to view the price checkers outlined below to ensure you have the most accurate up to date price information. Please also be aware that we have excluded manual treadmills from this list and stuck to motorised versions only as they are much more popular for the general public and many are available for less than £350 as you go down further through the list
Before you view our list of 7 cheapest treadmills online, feel free also to check out the video below which will give you some tips to help tone your overall body when using a Treadmill
Video Demo: How to Use a Treadmill for Toning (Certified Trainer)
Cheap Treadmills in the UK
Treadmill Description
Our first treadmill that you should consider is the Opti Folding Electric Treadmill on sale with Argos and you should be able to get your hands on it for less than £450 when seen at the time of this review. It has more advanced settings than some of the cheaper treadmills seen elsewhere and it can be folded away after use for easier storage and there are 3 manual incline settings available at 2.8%, 5% and 6.5% to provide higher intensity workouts
There is a holder here for your iPad to keep you entertained, you get 10 pre-set programs along with the manual program and you have the support handles either side to help keep you balanced and safe at all times. Folding it up after use is simple and the maximum user weight guide is 15 stone and 10 lbs or 100kg weight. There is a good range of speed settings from 1 to 12 km per hour, the peak power is 1.5HP (0.8 continuous motor size) and there is the console tracking when it comes to pulse, speed, distances, calories and operation workout times.
This treadmill is powered by the mains, it comes with the transport wheels for easier mobility and the weight is not all that bad at 42kg. For the dimensions, the deck size is 120cm long by 40cm wide and it comes backed with a standard 12 month warranty.
Price Guide: Less than £500 @ Argos UK

Treadmill Description
Another treadmill from the brand of Opti if you have more money to spend is the higher spec Opti Foldable Treadmill with the programmable Inclines and Bluetooth connectivity and we would say this treadmill provides great value for all the extra features that it offers you. Having the ability to program the incline within your workout is not available on many other treadmills and the Bluetooth connectivity added in is also not available in lower priced treadmills.
In addition, the extra money goes into the extra power support you get with the 2HP peak motor power to support more intensive workouts plus there are 16 pre-set programs to choose from so you have more than enough options to vary your workout sessions from one week to the next. This treadmill is foldable for easier storage, the LCD screen records all the main fitness parameters and the maximum weight allowed is heavier than the first coming in at 17 stone and 5lbs (110kg).
The speed levels work from 1 to 13 km per hour and are easily changeable and there is the loud speakers and MP3 connections included also to keep you motivated on the deck for longer. When folded, the dimensions are H162.5 by W71.5 by D25.5cm and when assembled, the dimensions are H135.5cm by W71.5cm by D162.5cm. The inclines can be varied with the programs, it has the safety clip attached as standard plus the transport wheels and you get the 1 year warranty protection for peace of mind.
Price Guide: Less than £580 @ Argos UK

Treadmill Description
Up next is the lower priced Bodytrain 3000SP Motorised Folding Treadmill on sale in the UK and you should be able to get your hands on it for less than £250 when seen at the time of this review. If a bargain is what you are after, then you don't need to look much further than this in our opinion and to our surprise, it even includes a wide range of training programs as well as the stereo speakers with the Bluetooth connectivity and the Smart App compatibilities.
There is the drinks holder included as well as the holder for your smart device and the incline is adjusted manually over 3 settings for tougher and more strenuous workouts. In addition, you get 12 pre-set programs, the 4 zone dampen deck system, Bluetooth speakers and the hydraulic folding system to help you when it comes to assembly and folding. The tablet screen is 3 inches in size to keep you up to date with the speed, distance, calories and times and you have the safety clip thrown in as standard as well as the transport wheels to help with mobility.
A nice added bonus to get is the heart recording chest belt to keep track of your pulse rates and the inclines are adjusted manually over 3 height settings. It is more or less assembled straight from the box (only 5 minutes work) and the speed works from 1 to 10 km per hour, The maximum weight allowed is 100kg, the running deck dimensions are 100cm long by 36cm wide and you get a 1 year standard warranty as back up
Price Guide: £200 - £250 @ Sports & Leisure UK

Treadmill Description
A treadmill that you may not be familiar with that is worth serious consideration is the Lontek X510 Folding Electric Treadmill and you should be able to buy it for less than £300 when seen at the time of our review. It is a smaller framed treadmill with a lower max user weight of 90kg but you still get a decent sized running deck of 121cm long by 41cm wide for additional comfort for longer strides.
One big advantage here is the low level of assembly work required as it is more or less assembled straight from the box. All you need to do is add a few screws, fold it up and this should only take you around 5 minutes to complete. There are 12 programs to choose from, you get the holders for your smart device and water bottle and there is also the Bluetooth connectivity for the Gfit fitness app and the integrated loud speakers. It can be folded away when not in use, the running speeds operate from 1 to 10 km per hour and there are 12 pre-set programmes for you to choose from.
The motor peak power here is 1.5HP and the console screen keeps track of the speed, distances, calories, times and program progresses. The dimensions when assembled are 151cm long by 69cm wide by 115cm high and the folded dimensions are 26cm long by 69cm wide by 147cm high. The net weight is approx. 38kg and it comes covered with a standard 1 year warranty protection
Price Guide: £250 - £300 @ Sports & Leisure UK

Treadmill Description
Our next recommendation is the Nero Sports Foldable Electric Motorised Treadmill available in the UK and it was available on sale for less than £280 when seen at the time of this treadmill review. The speed levels range from 1 to 10 km per hour and there are 12 pre-set programs available to choose from to give you a varied workout from week to week. Please note though that there is only 5 speed settings (2/4/6/8/10 km/hr) so the speed goes up in 2km/hr increments. This a much lighter treadmill and approx. 25kg so it makes the job of moving it around a whole lot easier to do.
You get the Bluetooth connectivity here for your smart device, there is the pulse sensors on the handlebars and the inclines can be adjusted manually through 3 different incline heights. The tracking monitor displays the speeds, calories, times and distances and it is supported with a fitness App and a training eBook that you can download. You can even run real world google satellite road maps if that is your thing.
Most of the treadmill is already preassembled for you so the unboxing and assembly is quick and easy without much fuss. All you need to do is attach the handlebars and add a few screws. Warranty cover can vary from seller to seller but is generally 3 to 6 months long from what we have seen
Price Guide: £220 - £280 @ Amazon UK

Further Budget Fitness Equipment products that may be of interest to you also:
Budget Dumbbells – Take a look here
Budget Kettlebells - Take a look here
Final Cheap Treadmill Recommendations
If the 5 low priced Treadmills outlined already don't meet all your expectations just yet, then check out our last 2 options from Confidence and Dripex summarised briefly as follows
6, Confidence Ultra 200 Electric Treadmill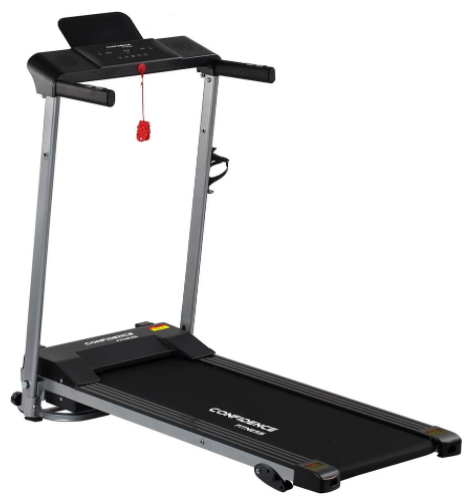 Brief Summary:
Lightweight design at 27kg
Maximum user weight guide 110kg
Motor power 1HP and speed 1-10 km/hr
Foldable, 12 programs and LCD monitor
Built in speakers plus pulse sensors
3 levels of manual incline & phone stand
12 month warranty cover
Price Guide: Less than £250

7, Dripex 2 in 1 Folding Electric Treadmill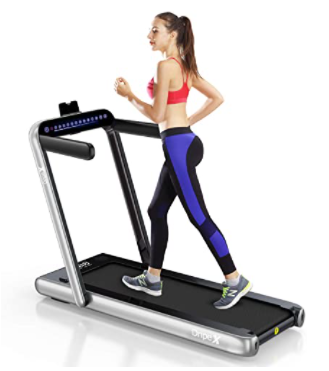 Brief Summary:
Higher spec 2 in 1 treadmill
Higher motor power of 2.25HP
Includes Bluetooth speakers
Heavier maximum user weight 120kg
Speed levels from 1 to 12 km/hr
Smart device holder and compact design
15-20 minutes assembly work required
Price Guide: £350 to £450 level

While you are here, feel free to view other lower priced Fitness Equipment outlined as follows:
Low Priced Cross Trainers – Take a look here
More Low Priced Treadmills – Take a look here
Comparison Table
To add further clarity, feel free to check out the comparison table provided below which compares the motor powers, user weights, programs and speed levels available for each of these Treadmills on our list
| Treadmill | Speed: | User weight | Programs | Peak Motor |
| --- | --- | --- | --- | --- |
| Opti Folding | 1-12 km/hr | Max 100kg | 10 | 1.5HP |
| Opti Bluetooth | 1-13 km/hr | Max 110kg | 16 | 2HP |
| BodyTrain 3000SP | 1-10 km/hr | Max 100kg | 12 | 1HP |
| Lontek X510 | 1-10 km/hr | Max 90kg | 12 | 1.5HP |
| Nero Sports | 1-10 km/hr | Max 110kg | 12 | 1HP |
| Confidence 200 | 1-10 km/hr | Max 110kg | 12 | 1HP |
| Dripex 2 in 1 | 1-12 km/hr | Max 120kg | 12 | 2.25HP |
Conclusion
Which Treadmill would we choose? For the lowest possible price, it would have to be the Bodytrain Treadmill outlined earlier and further price updates can be double checked below.

Community Feedback
Have you used any of these Treadmills yourself in the recent past? If so, please educate others in the wider community by leaving your opinions or feedback in the comment box section provided below…