If you are thinking about buying an iWalk treadmill in 2020, then make sure to take a quick look through this brief iWalk Treadmill review which will outline all that you need to be aware of before you make that all-important decision.
This review will outline all the key features that it has to offer you plus all the main pros and cons that you need to be aware of also before you buy. Included here also will be a short set of frequently asked questions that should take care of most of the queries that you may have which we hope will be of benefit to you in some way.
In addition, if you wish to explore cheaper options elsewhere, you can take a look also at the lower priced options provided below that are also worth a closer look especially if you wish to save some money in the process.
Please note also that guide prices can only be presented at the time of this review as prices can change slightly from week to week or month to month depending on local promotional activities – so please make sure to view the price checkers outlined below to ensure you have the most accurate up to date price information.
Overview:
| Treadmill Brand: | iWalk |
| --- | --- |
| Model: | iWalk Home Family Treadmill |
| Orders Online: | Yes, delivery is usually 4 to 5 working days |
| Reliable Supplier: | JML Direct UK – View Stock Availability Here |
| Delivery Costs: | Standard orders in the UK are free if the value of the order is over £45 |
Frequently Asked Questions:
Q. How long does delivery take?
A. Delivery is normally 4 to 5 working days
Q. How long does it take to assemble?
A. It will depend on your level of skill but takes on average 20 to 30 minutes to complete
Q. Can I request a next working day delivery?
A. Yes you can but orders need to be placed before 2.30pm and the cost is generally around £7.00 extra
Q. What are the speeds levels available?
A. The speed levels available for this treadmill range from 1 to 10 km per hour
Q. Can I place it on a rug or thick carpet surface?
A. Rugs and thick carpet surfaces should be avoided as they reduce the cooling capacity of the motor
Q. Where do you attach the magnetic safety key?
A. You need to attach the magnetic safety key to your waist area before you start your session
View also while you are here…
Ad: Check out Popular Fitbit Inspire Trackers
iWalk Treadmill Review - Features, Pros and Cons:
iWalk Home Family Treadmill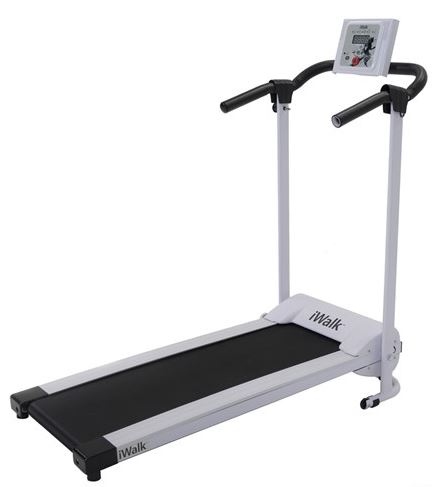 Main Features:
Built in integrated speakers
Silent Motor of 1 HP
Used for walking and jogging
Safety magnetic cut off key
Foldable for easier storage
Multi function LCD screen
Oil Lubricant bottle included
6 user settings
Maximum user weight 110kg
Folding pin and vertical bolt
3.5mm Audio Cable
Instruction manual
Net weight is 22kg
Speed level of 1 to 10kmph
Main Pros or Advantages (6)
One thing you will like is the low level of noise associated with this treadmill and also the fact that it can be folded away after use.
There is a reliable customer support team in the UK which can track your order and deal with any issues that may arise.
Size is quite small when compared to the larger more powerful treadmills which is ideal for people living in smaller spaces and the fact that it can be folded away after use is a major plus.
To keep you motivated, you can plug in your phone to the integrated speakers and listen to your favourite music as you complete your workout
If you stumble or get distracted and lose your footing while working out, the treadmill will automatically switch off with the magnetic cut off key providing you with additional safety features
An oil lubricant is included with your delivery and the fact that is weighs just 22kg makes it very portable around your home
Main Cons or Disadvantages (5)
If you wish to run beyond just 10km per hour, then you start looking elsewhere. Plus if you are over 110kg, then this treadmill is simply not strong enough to support you and you should consider other alternatives.
At times, delivery can take longer than 5 working days which is annoying if you need to have it in a hurry
Assembly is not all that bad but requires a good deal of time and a certain level of skill and patience to get through all the steps
Replacement parts if needed are more difficult than expected to source and overall, we found it to be less powerful than some of the other more popular brands that have a similar cost base.
The price guide for this 1HP Treadmill when last seen at the time of this review was in the £300 to £350 price range which would be considered quite high in our opinion when compared to various other brands and can be double checked below if you wish to take a closer look

Further Images are Outlined Below:
Comparisons versus other Brands:
While the price for the iWalk Family Treadmill is more than what we expected, you should also compare the 3 options provided below which are lower priced and certainly worth a closer look before you make your final decision. All 3 options outlined below had a price guide of less than £250 at the time of this review while the Bodytrain Treadmill was available for less than £170…
Conclusion:
This Treadmill is by no means the best we have come across but is still adequate for lighter type sessions such as brisk walking and light jogging and the price level is a little steep and certainly could be somewhat lower in our opinion. However, if you weigh over 110kg and you intend to use a treadmill for running faster than 10km per hour, then you should really consider other more powerful treadmill models under other brands that can offer speeds of up to 18 km per hour in some cases.

Feedback:
Finally - Have you any experience yourself of using an iWalk Treadmill?
If so, it would be greatly appreciated if you can share your experiences good or bad with the wider community by leaving your feedback in the comment section below – So that others across the community can learn also!
Many thanks for taking the time to visit and best of luck with your final decision