Hello once again and welcome to our JLL Rowing Machine Review which will outline our feedback based on using this machine for over 30 days and should help you decide for yourself if indeed this rowing machine is the one for you or not. Our JLL Rowing Machine Review will outline everything you need to know in terms of dimensions, weights, operational tips and a summary video is outlined at the end of this page along with our conclusion that you can check out.
In addition, we will point out the main positives that you will like along with some of the negatives that we came across and these are outlined further down on this page. There is also a series of 12 FAQ's included in this review which should answer most of the queries that you may possibly have.
For easier navigation, our review is broken up into 5 parts so feel free to skip to whatever part interests you the most.
JLL Rowing Machine Review Content:
Part 1: Short Overview with FAQ's
Part 2: JLL R200 Rowing Machine Review – Features Offered
Part 3: The Good and the Bad – The Pros and Cons
Part 4: Conclusion Summary
Part 5: Summary Video
As guide prices can only be presented at the time of this JLL Rowing machine review, please make sure to view the price checkers provided below to ensure you have the most accurate up to date price information.
Read also: Our Roger Black Rowing Machine Review Here
Part 1: Short Overview with FAQ's
| Brand: | JLL |
| --- | --- |
| Model: | JLL R200 Rowing Machine |
| Resistance: | Magnetic |
| Warranty: | 12 months long |
| Best Price Guide: | £170 to £200 @ Amazon UK – View todays updated price here |
| Support: | Customer support Mon to Fri 9am -5pm, 0800 6123 988 / 0121 328 7507 |
FAQ's for the JLL R200 Rowing Machine (12)
Q1. How many levels of tension resistance does it provide?
A. This rowing machines provides 10 different levels of tension control.
Q2. Can it keep track of your heart pulse rate?
A. No, there is no heart pulse rate sensor tracking available on this rowing machine
Q3. Does it include transport roller wheels for easier movement?
A. Yes, transport wheels are included as standard for movement around your home
Q4. What are the box dimensions?
A. The box dimensions here are L124 x W22.5 x H58cm
Q5. What is the length of the seat rail?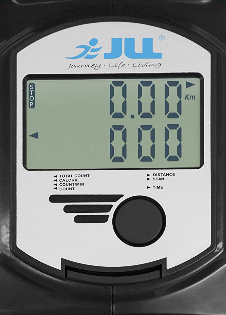 A. The length of the seat rail for the JLL R200 rowing machine is 115.5cm
Q6. What are the assembled dimensions?
A. The assembled dimensions are L180 x W52 x H49cm
Q7. Are their extra delivery costs?
A. Typically there are free deliveries to the UK mainland – extra costs are associated outside of the UK mainland
Q8. How long does delivery take?
A. It depends on stock availability, but delivery normally takes on average 5 working days
Q9. What are the recommended height limits?
A. As a guide, it will work for people 5 feet 11 inches tall (no more than 6 foot 2 inches in our opinion)
Q10. How heavy is it to carry around?
A. You can use the rollers to pull or push the 23kg weight
Q11. Is it powered by mains or do you need batteries?
A. This rowing machine LCD console monitor is powered by batteries
Q12. How long does it take to assemble it?
A. On average, it will take 30 to 45 minutes to have it fully assembled
Part 2: JLL Rowing Machine Review – Features Offered
Detailed Description:
This more affordable option from JLL is the JLL R200 Rowing machine which comes with a much lower price level than expected and offers both beginners and the more experienced rowers a great option for improving your fitness levels, cardio stamina, to lose weight fast and toning multiple muscle groups across your body.
It has the magnetic resistance with 10 tension levels and it is belt driven to offer a smoother and quieter rowing experience. The belt drive here offers an experience that closely resembles a simulation of real rowing which are not available on lower priced cheaper rowing machines.
The LCD tracking monitor provides most of the data you would expect such as times, distances, scan mode and calories burned, and the handlebars are deeply foam padded to be kinder on your hands.
There is a double wheeled sliding mechanism included also with adjustable footplates and a soft padded foam seat to provide you with that extra comfort especially for longer rowing sessions.
This rowing machines can be folded nice and tight after use and it includes transport wheels for easier movement in your designated room.
The warranty provided is seller dependent but is usually a minimum of 12 months based on looking at various retailers across the UK.
Price Guide: £170 to £200 @ Amazon UK

Location in the UK:
Part 3: Pros and Cons to Note
Pros you will Like:
The first good thing to know here is the fact that it is ROHS CE compliant to ensure the best possible results at all times
The belt driven feature gives you a lower level of noise and a really smooth rowing action that you will thoroughly enjoy. It can almost replicate the simulation of actual rowing.
The tensions levels are easy to navigate through and they provide a great range of different levels of difficulty to suit the level of fitness you have.
The handlebars have a good level of padding which are comfortable to use, and the footplates are adjustable which provide plenty of room for movement.
Another thing we really liked is how easy it is to fold away after use and of course it is ideal for people who have limited storage spaces available.
Unlike many other rowing machines that can cost well over £500, this rowing machine from JLL offers a much more attractive price point and is sometimes seen on sale for less than £200 which is great value for the amount of money you need to spend.
It is backed with a 12 month warranty so at least your investment is protected well ahead into the future.
Cons to be weary of:
There is no loud speakers, app or MP3 connectivity which will be very significant for people who prefer to listen to music or their tablet while they train.
There are also no heart rate pulse sensors available which we have seen available on other higher spec rowing machines
Even though the screen has 7 functions, it is still quite small in our opinion and could offer more in terms of tracking and keeping you motivated.
There is generally a 12 month warranty offered by this rowing which is not all that bad to be fair but there are longer warranties available from other higher spec premium brands in this sector.
Some of the lower resistance settings seem to offer very little and would nearly be considered a waste of time.
The saddle is quite good, but you may need to add in a small cushion for extra comfort on those longer rowing workout sessions
The tracking on the console computer can be a little off at times from what we see, especially when it comes to calorie counting
Further information on dimensions, sizes and weights
Sizes / Dimensions to Note:
Assembled L180 x W52 x H49cm
Rail seat length is 115.5cm
Folded L71 x W52 x H127cm
Box is L124 x W22.5 x H58cm
Guide height 5 ft 11 inches
Guide inside leg 90cm long
Weights to Note:
Max user weight 100kg
Net weight 23kg
Gross Weight 26.2kg
Tracking Console Notes:
7 function monitor
Total count scan
Times & Distances
Scan modes, Calories
3-inch display
Battery Operated
View also - Video Tips on how to assemble a JLL R200 Rowing Machine Here
Part 4: Our Conclusion
Is this the best Rowing machine we have ever used? Definitely no but to be fair, it does offer great value for the amount of money that is required to fund the cost of it. It lacks premium features seen on other brands and the frame and fittings seem a little flimsy but again thankfully it is matched with the lower price tag. Personally, I am not in a position to pay over £500 for a rowing machine and I also cannot afford the price of a Concept 2 rowing machine so this lower priced rowing machine from JLL fits the bill just perfectly in my opinion. Therefore, we would have no issue in recommending this rowing machine to everyone and the fact that there is a UK customer support team and a 12 month warranty is a nice bonus to have.
Furthermore, it gives better peace of mind when you are buying from a recognised brand in the sector that prides itself on customer satisfaction instead of buying some lower priced brand that you never heard of before. If you need to look at getting a low impact exercise machine at a relatively low cost, then you don't have to look much further than this.

Community Feedback:
Have you ever used a JLL R200 Rowing machine yourself in the recent past? Have you anything good or bad to say about it?
If possible, please share your own feedback with the wider community by leaving your feedback in the comment box section provided below
Part 5: Video Summary