If you are thinking about buying a JTX Fitness Cross trainer in the coming days, then make sure to check out our detailed review which will help you before you make that all important final decision. JTX Fitness is a UK-based company that specializes in providing high-quality fitness equipment for both commercial and home use and they are based in West Sussex BN43 5HZ where they offer both instore sales and also online order deliveries.
Google Map Location
View also: Best value Elliptical Cross Trainers here
Range
JTX Fitness offers a wide range of fitness equipment, including treadmills, exercise bikes, cross trainers, rowing machines, and vibration plates and the company's products are designed to cater to the needs of individuals of all fitness levels, from beginners to professional athletes.
Customer Service
One of the unique selling points of JTX Fitness is their commitment to providing excellent customer service. The company has a team of experts who are available to provide advice and support to customers before, during, and after the purchase. They also offer free delivery, a 28-day money-back guarantee, and a two-year warranty on all their fitness products.
Awards
JTX Fitness has received positive reviews from customers, with many praising the quality of their products and the excellent customer service. The company has also won several awards for its products, including the T3 Awards for Best Home Gym Equipment and the Men's Health Award for Best Rowing Machine.
Accessories
In addition to providing fitness equipment, JTX Fitness also offers a range of fitness accessories, including resistance bands, yoga mats, and foam rollers. They also have a blog that provides helpful tips and advice on fitness, nutrition, and exercise.
JTX Fitness Cross Trainer
JTX Fitness offers a range of cross trainers, also known as elliptical machines, that are designed to provide a low-impact, full-body workout. One of their most popular cross trainers is the JTX Strider-X7 which we absolutely loved from the very start – this was certainly an awesome and impressive piece of equipment that does not disappoint in any way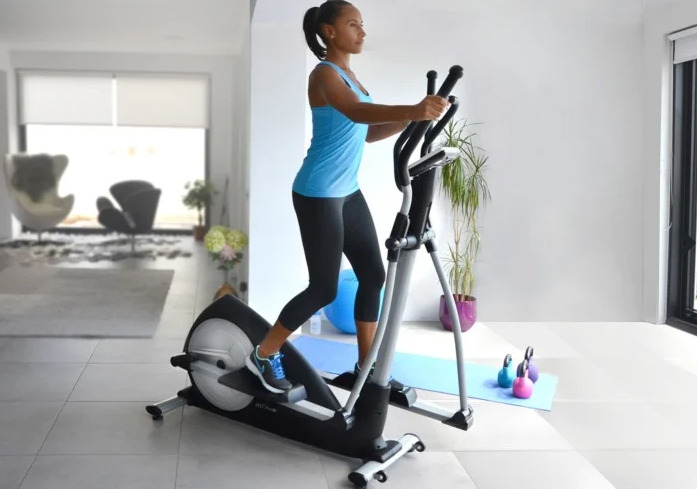 Overview
The JTX Strider-X7 is a mid-range cross trainer that is suitable for both home and commercial use. It features a 16-inch stride length, which is suitable for most users, and has a maximum user weight of 130kg. The Strider-X7 has a 12.5kg flywheel, which provides a smooth and quiet workout. It also has 16 levels of resistance, which can be adjusted using the console or the resistance buttons on the handlebars.
This allows users to customize their workout to their fitness level and goals. Please make sure to check out the short video demo below to give you a better understanding of what this Cross Trainer from JTX Fitness is all about
Console
The console of the Strider-X7 is easy to use and displays all the necessary information, including time, distance, speed, calories burned, and heart rate. It also has 21 pre-set programs, including interval training, hill climb, and fat burning, to keep users motivated and challenged.
Bluetooth
One of the unique features of the Strider-X7 is the inclusion of Bluetooth connectivity, which allows users to connect their tablet or smartphone to the console and stream music or use fitness apps while working out.
Trust Pilot
One good thing to know is the fact that there are superb reviews from Trust Pilot where reliability, value for money and superb quality appears to be at the fore. After testing this Cross Trainer for ourselves, we would have to be in total agreement with this reviews also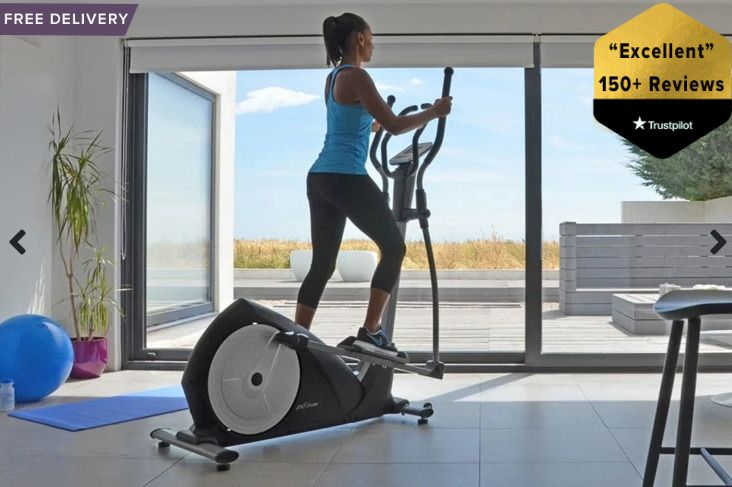 View also: Great value UK Cross Trainers here
Key Features
16 Inch Stride Length & 7kg flywheel - Phone or Tablet side Ledge, Heart Rate Training
Best seller in their range, Easy to use console
16 levels of resistance, Transport wheels & 21 programs available
Design your own program, Water bottle holder unit
Dimensions 130L by 70W by 169H cm
For people up to 5 foot 9 inches tall, Maximum user weight 130kg
30 minute workout burns up to 200 calories, Assembly time 45 minutes to 1 hour
Console Screen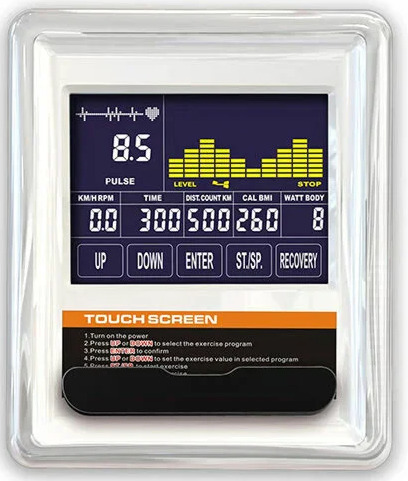 Warranty Protection
Have no doubt that you are well protected when it comes to warranty cover for this Cross trainer. In addition to a reliable customer service, you get a 5 year warranty on the frame and a 2 year warranty for repairs which is good to know when you decide to make a home investment of this size. There is also a 28 day money guarantee available if you are fully satisfied with your purchase
Price Range
When seen at the time of this review, the price range appears to be £400 - £500 which of course can be double checked below and to be fair offers great value in our opinion for what you get

Final Verdict
Yes, we would have to say that we would highly recommend this high quality Cross Trainer from JTX Fitness and we have no hesitation in recommending it to the wider public, The quality of the build is excellent, the console and connectivity has everything to keep you motivated and it offers a great low impact way to burn so many calories in such a short space of time.
View also: Low priced UK Cross Trainers here
Community Feedback
Have you ever used the JTX Fitness Cross Trainer yourself in the recent past – anything positive or negative to report? If possible, please let us all know by leaving a comment in the comment box section provided below – so that others in the UK fitness community can learn also…