Are you thinking about buying a Roger Black Exercise Bike in the coming days? If so, then make sure to check out our Roger Black Exercise Bike review which will focus on the lower priced folding magnetic version, but we will also outline comparisons against the Roger Black Gold folding bike and the unfolded Roger Black Plus magnetic exercise bike versions further down on this page. This way, at least you have more than just one option when it comes to making your own final decision.
Our Roger Black folding magnetic Exercise Bike review will outline all the key features that you need to know and we will share our own experiences so you will have a better idea which bike under this brand will work best for you. Included also is a short series of FAQ's that hopefully can answer some of the queries that you may have along with the main pros and cons which we came across and these are outlined further down on this review page. For easier navigation, this review will be split into 5 parts as follows…
Roger Black Exercise Bike Review Content:
Part 1: Overview and FAQ's
Part 2: Roger Black Folding Magnetic Exercise Bike – Features
Part 3: Roger Black Folding Magnetic Exercise Bike – Pro & Cons
Part 4: Comparison versus 2 other Roger Black Exercise Bikes
Part 5: Conclusion, Feedback & Video demo
Guide prices can only be shown at the time of this review so please make sure to view the price checkers provided below to ensure you have the most accurate up to date price information.
Read also: How to assemble a Roger Black Exercise Bike Video – Check it out here
Part 1: Overview and FAQ's
| Brand: | Roger Black |
| --- | --- |
| Model: | Roger Black Folding Magnetic Exercise Bike |
| Resistance: | Magnetic |
| Best Price Guide: | £90 to £120 @ Argos UK – View todays updated price here |
| Support: | Customer Support is available at 0345 6001714 Mon to Fri 9am to 5pm |
| Warranty: | 12 months long |
FAQ's for the Roger Black Folding Magnetic Exercise Bike (10)
Q1. What are the dimensions when folded away?
A. The folded dimensions for the exercise bike is 140cm high by 17cm wide by 41cm deep.
Q2. What height is recommended for this exercise bike?
A. As a guide, your inside leg measurement should be 60cm to 72cm
Q3. What maximum weight applies for this bike?
A. The recommended max user weight capacity is 15 stone and 10 pounds or 100kg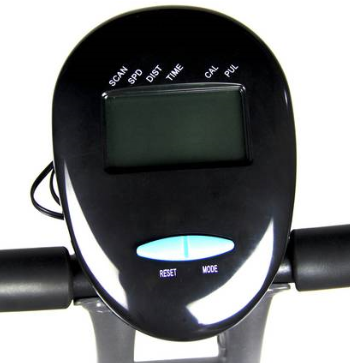 Q4. Does it come pre-assembled?
A. No, home self-assembly is required and includes a detail manual instruction for you to follow.
Q5. How long does it take to get it assembled?
A. On average, it should only take 30 minutes to have it fully assembled.
Q6. Does it include batteries?
A. No, you will need to buy 2 x AA batteries separately
Q7. Is the wheel a fixed wheel or a free wheel?
A. The wheel on this exercise bike is a free wheel.
Q8. How heavy is this bike to carry around?
A. Once assembled from the box, the net weight is approx. 15 ½ kg
Q9. Can the distance be changed from Km to miles?
A. Unfortunately no, it cannot be changed to miles
Q10. What are the box dimensions?
A. The box dimensions here are 122cm long by 36cm wide by 22cm deep
Part 2: Roger Black Folding Magnetic Exercise Bike – Features
Roger Black Folding Magnetic Exercise Bike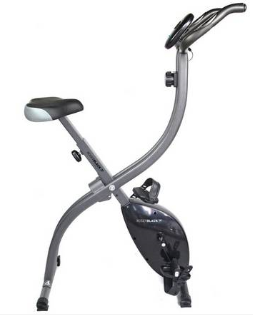 Summary of Features:
8 tension levels
Easily folds away after use
Solid stable frame
Magnetic resistance levels
Hand grip pulse sensors
Flywheel is 2.5kg
Max user weight is 100kg
Adjustable saddle
Requires home assembly
Warranty is 12 months
Main Features in Detail
This folding exercise bike from Roger Black tends to be one of the lowest priced bikes under this brand and it comes with tons of mostly positive reviews from previous users in the UK which certainly adds some confidence before you buy.
It provides you with 8 levels of tension control, so you can start at the easier options and work your way towards the more difficult tensions as time goes by.  The folding frame is solid and robust and is well able to handle weights of 100kg or 15 stone and 10 pounds.
The level of magnetic resistance provided works well to give adequate workouts for both beginners and more experienced athletes. The flywheel weight is 2.5kg and the small console screen tracks all the main parameters you need such as calories burned, pulse rates, speeds, distances and times.
It is ideal for people with limited living spaces as it can be folded to a dimension of H140 by W17 by D41cm, so it can be stored in many different places out of the way when not in use. The assembled size is on the smaller side when compared elsewhere and the guide for your inside leg length should be a max of 70/75cm.
There are pulse sensors on the grips, the saddle is padded, and the height of the seat is adjustable to suit different leg lengths. The pedals come with straps to keep your feet secure and 2 AA batteries are required for the console (not included)
Finally, this bike requires home assembly with detailed instructions included and it is backed with a 12-month no hassle warranty.
Price Guide: £90 to £120 @ Argos UK

Further images of the Roger Black Folding Magnetic Exercise Bike are outlined below (5 – scroll side to side)
Part 3: Roger Black Folding Magnetic Exercise Bike – Pro & Cons
Pros worth noting:
The price level offered here is one of the best you will come across and can sometimes be found on sale for less than £100 which is great value for what you get.
The overall footprint and size are on the smaller scale and the fact that it can be folded nice and tight saves a lot of space which is ideal for people living in smaller type living spaces.
The range of tension levels is quite good as you have 8 to choose from so it's great that you can start on the easier levels and then work your way up to the harder levels
Even though the console screen is quite small, it can still track all the main parameters you would expect such as calories, times, speeds, distances and pulse rates.
In terms of noise levels, this exercise bike can be used quite fast and vigorously without emitting a loud noise, so it is quieter than what we expected.
You get a 12-month warranty so at least you have some protection for your investment and also a customer service number that you can call if you experience any issues (number outlined above)
Instructions are easy to follow and the assembly of the bike at home can be completed without too much fuss to be fair – lay the parts out clearly first.
Cons worth noting:
This exercise is very basic overall and lacks the additional features to keep you on the bike for longer or motivated for longer – boredom may creep in a lot easier
As the frame is quite small, it can only handle a max weight of 100kg capacity – if you weigh over this, then you should skip this one and start looking elsewhere
The batteries are not included so you have the extra hassle of sourcing these batteries separately and replacing them as the batteries run out.
The size of this bike is smaller than you think, and your inside leg measurement should be less than 70/72cm approx. as a guide.
Some issues have been seen reported about the pedaling motions and on rare occasions even some crackling or knocking noises when pedaling (not experienced by us but should be highlighted all the same)
The distance travelled cannot be changed from kilometers to miles – only one setting is available
No standing pedaling is allowed on the bike which can be done with other higher spec exercise bikes
The saddle could have been made with more padding and been more comfortable to use for longer sessions
Dimensions to Note:
Folded H140 x W17 x D41cm
Assembled Size H118 x W41 x D84cm
Box size is L122 x W36 x D22cm
Weights to Note:
Boxed weight is 17.5kg
Net 15.5kg
Flywheel weight is 2.5kg
Max user weight 100kg
Read also: Our Opti Exercise Bike Review here
Part 4: Comparison versus 2 other Roger Black Exercise Bikes
If the lower priced basic Roger Black Folding Magnetic Exercise Bike hasn't ticked all of your boxes just yet or you have a little more to spend, then check out 2 other options from Roger Black summarised as follows…
1, Roger Black Gold Folding Magnetic Exercise Bike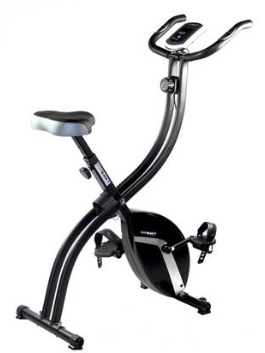 Main Features in Summary:
8 levels of magnetic resistance / Foldable
PU moulded saddle / Pedal straps
Adjustable seat & Console Screen
Flywheel 3kg / Max user weight 100kg
Requires home assembly / Warranty 12 months
Price Guide: £100 to £130 @ Argos UK

A comparison table is outlined below for the 3 exercise bikes from Roger Black in this review that may help you make whatever comparisons you need to make yourself.
| Feature: | Folding Magnetic | Gold Folding Magnetic | Plus Magnetic |
| --- | --- | --- | --- |
| Tensions: | 8 levels | 8 levels | 8 levels |
| Flywheel: | 2.5kg | 3kg | 3.5kg |
| Max user weight: | 100kg | 100kg | 125kg |
| Size: | H118 x W41 x D84cm | H118 x W41 x D85cm | H123 x W59 x D97cm |
| Weight: | 15.5kg | 17.5kg | 24kg |
| Water Holder: | None | None | Included |
| Transport wheels: | None | None | Included |
| Warranty: | 12 months | 12 months | 12 months |
Part 5: Conclusion, Feedback & Video demo
Conclusion:
Would I recommend this exercise bike from Roger Black? Certainly, we would after using it after a few days as the frame is nice and solid, the tensions work adequately and overall we found it be great value for the money you have to spend. One thing we didn't experience but seen others report it and that is the clicking noise on the pedaling motions after a number of weeks which was a concern to see.
Is it the best Exercise Bike we have ever used? Definitely not! So, it really depends on the level of money you want to spend. If you are a beginner and want a basic but effective exercise bike and you are no more than 5 ft 10 tall in our opinion, then this will fit the bill for you. However, if you are over this height or even over 6-foot-tall, then we would feel that this bike may be on the small side for you and you would be better off getting a larger framed bike that is more designed for larger, taller and heavier people.
The saddle is fine, but we have seen better elsewhere and it doesn't come with the premium features seen elsewhere such as speakers or MP3 or app connectivity. That being said, this Exercise bike will do the job just fine if you need something basic yet solid at a much lower price point in our opinion. At least you have the 12-month warranty and a customer service number to ring in the background for your own protection which is always great to have.

Feedback:
Have you ever used a Roger Black Exercise Bike yourself in the recent past?
If so, please help and educate the wider community by leaving your feedback or experiences in the comment box section provided below.
Video Summary Demo Below: