Greetings once again and welcome to this brief Confidence Treadmill Review which you should definitely check out if you are thinking about buying it in the coming days or weeks. We have tested it and researched feedback from across the industry to get as many people's opinions as we possibly could so that you can see for yourself if indeed this treadmill is the one for you or not.
This brief Confidence Treadmill Review will take a look at the main features it can offer the general public plus also the major pros, cons and limitations associated to this particular treadmill that you need to know in advance of making any purchasing decisions.
Please be aware also that price guides can only be submitted at the time of this review as prices can change slightly from week to week or even month to month which are subject to local promotional or discount activities, so please make sure to view the price checkers outlined below to ensure you have the most accurate up to date price information.
To make it easier to follow, the content of this Confidence Treadmill review will be outlined as follows in 4 parts…
Part 1: Review Overview and FAQ's
Part 2: Confidence Manual Magnetic Treadmill Review - Features, Pros and Cons
Part 3: Overview of other Electric treadmill models available under the Confidence brand
Part 4: Alternative Brands to compare
Part 1: Review Overview & FAQ's
| Treadmill Brand: | Confidence |
| --- | --- |
| Model: | Confidence Manual Magnetic Treadmill (plus 3 more in brief) |
| Orders Online: | Accepted with hassle free home delivery |
| Price Guide: | £100 to £130 (at the time of this review) |
| Cheapest Place to Buy: | Amazon UK – View Stock Availability Here |
| Warranty: | 12-month warranty available |
Frequently Asked Questions – Confidence Manual Treadmill:
Q. What are the boxed size dimensions involved here?
A. The box dimensions for this treadmill are 132 by 62 by 23.5cm
Q. What are the folded dimensions when pinned?
A. The folded dimensions after use is 122 by 20cm
Q. How wide is the running or walking deck?
A. The width of the running/walking deck is only 38cm
Q. Is it heavy to move around your home?
A. No, as far as treadmills go, this is very easy to move around as it weighs less than 22kg
Q. Are there any batteries included?
A. No batteries are included with this treadmill and need to be bought separately
Q. Can you get this with an equipment mat?
A. Yes, you can get this with an equipment mat but will cost anywhere between £5 and £10 more
Q. Can the slope incline be increased or decreased?
A. No, the incline or slope cannot be adjusted
Q. Does the assembly require a lot of work?
A. No, it is more or less ready to go from the box and will only take on average 10 minutes to complete.
Q. Can it be used for running?
A. Light jogging would be difficult to do but manageable, it is more geared toward light or brisk walking
Q. Where do the batteries go for the mini screen?
A. It goes in the rear of the box and you need to slide it open
Q. Do you need to hold onto the bars while in operation?
A. Yes, you will need to hold the handlebars for stability and keeping momentum going on the belt be it walking or light running
View also while you are here - Related Posts:
Part 2: Confidence Manual Magnetic Treadmill Review – Features, Pros and Cons
Confidence Manual Magnetic Treadmill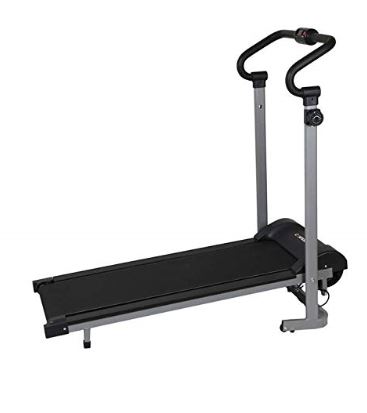 Main Features:
Multi-function display for calories, time, scan, speeds & distances
No motor power – manually driven & Fixed elevation – Cannot be adjusted
Speed levels are controlled by your own manual pace
No Bluetooth connectivity built in or loud speakers & No Phone / Tablet stand available
No pre-set or manual programmes
8 magnetic resistance levels available which are adjustable
Can be folded upright and locked and includes transport wheels
Run deck dimensions are 102 by 38cm
Assembled size is 120 by 48.5cm / Folded size is 122 by 20cm
Overall weight is 21.25kg
Maximum user weight allowed is 100kg or 15 stone and 10.5Ibs
Available with or without equipment mat (slight price difference)
Price Guide: £100 to £130 at the time of this review which can be checked below

Further Images of the Confidence Manual Magnetic Treadmill are outlined below:
Main Pros or Advantages Available:
One safe guard you have is - if you decide to buy it, there is a 12 month warranty available which is always good to have in the event that there are any problems with it. It is also an environmentally friendly option as there is no power plugged in to the machine either.
It can be folded tightly and neatly away after use which is ideal for people who have limited living spaces available. Even when assembled, it has a small compact size so it won't take up that much space when in use either
Another key attraction is the fact that it has a very low price point which is perfect for people looking for the lowest possible price or the best possible bargain and no cables or cords are there to worry about across your room.
No complicated programs, no complicated console screen and no Bluetooth or MP3 connectivity which makes the overall user ability a whole lot easier for people who just want a basic exercise unit which any of the fancy complicated expensive addon features
Perfect for people who only want a treadmill for low intensity workouts or casual walking and who only have a budget of less than £120/£130 to pay. It is also more or less ready to go straight from the box so there is no complicated assembly work to complete which again is another less thing to worry about.
You can use each of the 8 adjustable magnetic resistance levels and just choose the one then that best suits your own level of workout requirements
As it is less than 22kg in weight, it makes the whole idea of moving it around your home from room to room and even upstairs a whole lot easier and the addition of the transport wheels is a great little addition to have to prevent floors getting marked as it is being pulled or dragged
Main Cons or Limitations:
There is only 1 fixed incline which cannot be adjusted which will disappoint many users who expect adjustable inclines to work through. The running deck is also one of the narrowest we have seen and certainly wont tick everyone's box
The incline is also quite low but yet will be a little too steep for some who would rather just a flat deck surface, you make need to use your own imagination in getting the rear raised somewhat to make the deck flatter
As there is no motor, you need to get the deck belt going yourself which is quite difficult and takes a bit of practice but gets somewhat easier when you get the hang of it. Jogging on the deck will need a firm grip on the handles though to keep your balance and prevent stumbling off. You also need to hold the handlebars while walking to keep the belt going
The deck belt can get somewhat sticky and some will find it difficult to keep a steady momentum and avoid slipping as you conduct your exercise routine. Holding onto the handles for long periods of time will also cause arm or hand fatigue.
The tracker console is quite basic and small and requires additional batteries. There is also no built in speakers, no water bottle holders, no MP3 or USB connection, no app integration that is seen available on a multitude of various other premium treadmill models and brands.
As there is a lack of features available to keep you motivated, the likelihood of getting bored very soon after the delivery is a very strong possibility. You will also need the strength to push the belt along with your feet rather than relying on a motor to push the belt for you
If you want to run without having to hold the handlebars and a smooth motion, then you should definitely not buy this treadmill and look for a model with a motor instead. The noise level is actually louder than expected also.
The quality of the tracking computer is quite poor and many people report the hassle of having to return or replace it and the belts slips quite a bit from side to side so it requires ongoing adjustment which is annoying.
Conclusion:
Would I buy this Treadmill? Definitely not – it is not for everyone! I would rather save up enough money and buy a motorised version instead. Too many issues have been reported about this treadmill and I would much rather a treadmill where I wouldn't need to hold onto the handlebars all the time and complete my workouts in more comfort with more flexibility with inclines, speeds and pre-set programmes. It does have one on the lowest prices available though so if you decide to go ahead with it, make sure to limit your expectations and keep your receipt in a safe place

Part 3: Overview of other Confidence Treadmills available
If you don't wish to go down the manual route and are open to spend a little more for a motorised treadmill instead, then check out the 3 other treadmills under the Confidence brand that are worth taking a closer look at also.
1, Confidence Fitness TP-1 Electric Treadmill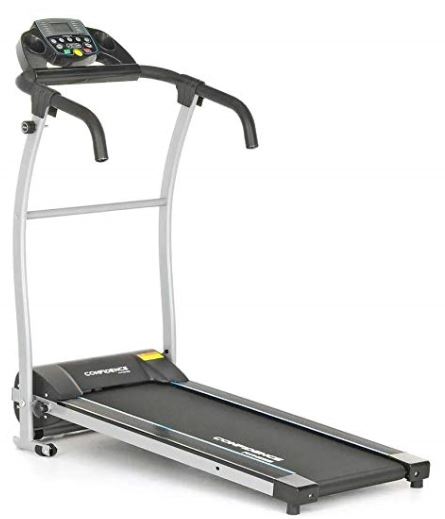 Main Features:
Motorised 1HP Treadmill
Run deck is 100 by 34cm
Speed is 1 to 10km per hour
Quick pre-set speeds x 5
Foldable Frame
Larger LCD screen
12 preset programmes
Safety key available
Transport wheels included
12 month warranty
Max user weight is 110kg
Weight of unit is 26kg
Price Guide: Less than £200

2, Confidence Power Trac Pro Motorised Treadmill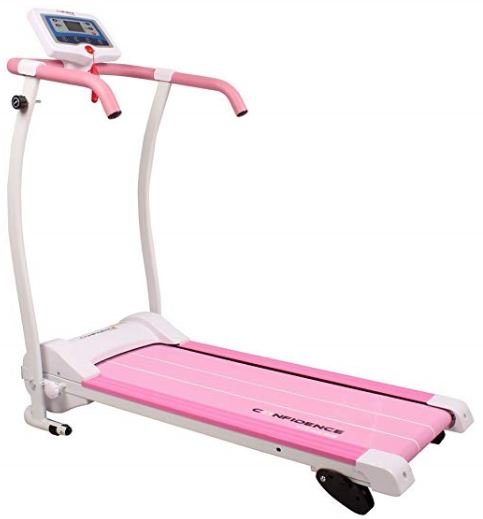 Main Features:
Motorised 735W Treadmill
Run deck is 100 by 36cm
Speed is 1 to 10km per hour
Quick pre-set speeds x 4
3 incline settings available
12 pre-set fitness programmes
Safety key clip available
Transport wheel available
12-month warranty
Max user weight is 100kg
Weight of unit is 24kg
Folded is 126 x 61 x 27cm
Price Guide: Less than £200

3, Confidence Fitness TP-2 Electric Treadmill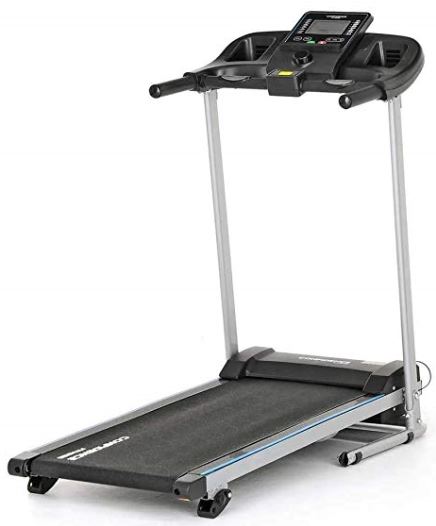 Main Features:
Motorised 1HP Treadmill
Run deck is 100 by 41cm
Speed is 1 to 10km per hour
Increases in 1kmph increments
3 incline settings available
16 pre-set fitness programmes
Magnet safety key clip
Heart rate pulse monitor
12-month warranty
Max user weight is 110kg
Weight of unit is 31kg
Hydraulic assisted folding
Price Guide: Less than £230

Part 4: Alternative Brands and Models to Compare
If at the end of this review and you still haven't made your mind up about a treadmill under the Confidence brand, then please also make sure to check out and compare the 2 other brand options outlined below which are certainly worth a closer look before you make your final decision…
Finally - Have you any experience yourself of using a Confidence Treadmill in the recent past?
If so, it would be greatly appreciated if you can share your own experiences good or bad with the wider community by leaving your feedback in the comment box section below – So that others across the community can learn also if it is worth spending any money on!!!
Many thanks again for taking the time to visit our website - we hope this review has helped you out in some way and best of luck with your final decision